First, check out the Infographic below and then, maybe, click HERE for Memeburn's suggestions for creating the "easiest" social marketing strategy, then continue on to see our view on how to apply the new, sobering statistics about social media. Our program has included social media options to help our clients manage their own social media or to have us "do it" for them. Ask us how we can manage the myriad of social media you are facing, affordably, efficiently and effectively.
*Remember that the average number of Facebook friends is between 250-300 so every time a user likes or shares something YOU said or showed on your page the potential reach is not only free, but effective as a third party referring you or what you do to their social network. Mobile is the BEST way to engage Facebook users wherever they are, 24-7.

Why Mobile Optimization of Facebook Sharing Is So Important - 84% of Smartphone Users Use Facebook Apps and 75.6% of Millenials (18-34 Yrs Old) Use Facebook.
First, the statistics for Facebook Users are In....Here Are Some (Links) That Support What You're About to Read.
http://www.pewresearch.org/fact-tank/2014/02/03/6-new-facts-about-facebook/
The infographic leaves no doubt about the impact that social media has on business. Also, people don't want to have to register or check in to connect, so providing a fast, easy way for them to "click" a share to their friends....verrrry important.
5 Considerations of Small and Medium Sized Businesses That Are Thinking of Engaging Social Media
By LocalMobil 09/30/14
Social advertising is the hottest topic in advertising right now. Salesforce estimates that by 2017, the global market for social ads will be worth about $11 billion. That's some serious advertising cash and the benefits are available to SMBs that work out a few details that we'll illustrate below.
So, if you have avoided social media, it's time for ALL brands, big and little, to step in and begin to develop a strategy to capitalize on the power of social advertising.
The customers are there; people are spending lots of time on social media, particularly on mobile devices — 35%+ of the time spent on social media is on mobile, and that figure is likely to continue to grow.
Local brands have the need to learn how to optimize ad content to deliver an effective message and call-to-action to their audiences. This sector of advertising is not as aggressive as TV; it actually fits in with the way people absorb content on social networks. Facebook and Twitter have expanded their advertising options to suit a variety of budgets and business goals.
The goals for social ads typically include:
-Increasing the number of people that share and then increasing the count of shares of your content or the content provided by your fans.
-Increasing the number of fans or followers.
-Distributing content, such as videos, photos and other items that live on the feeds of the network.
-Driving direct responses, such as e-commerce, application downloads, etc.
But how do you set up your ads for success? Social media present so many opportunities that making a choice can seem daunting. Here are five keys to keep in mind:
1. Content is king: Within social networks, you have access to a massive amount of data, charting your content's effectiveness and how well it resonates with your audience. Promote and push the content that is working. If you've got good content, you're ultimately a winner, and the best content is most likely third party (i.e. your customer's) provided. Why not HELP, encourage and incent your customers create content FOR you?
Look at the success of previous posts and promote the ones with a high amount of "shares" or "likes" or comments. Know that photos and videos work better than text-heavy posts, and focus on spending money to promote your original content, such as infographics, humor (careful here), in-house videos or selfies taken by customers, etc. Have you trained your staff to be aware of smartphone users that are an obvious resource of content that can be viewed by many thousands of friends, friends of friends and so on... before the customer ever leaves your premises?
You can use A/B testing to determine which customers and offers interact best and get the best response with certain content.
2. A/B test: Put your campaigns to the test. Assign resources to several offers and target groups in the beginning, and after one week or so, take a look at what is working. Don't go crazy; granular, but not too granular. Use any existing customer data you have to determine audiences and key demographics.
What is a good amount of "granular"? Let's say your brand sells a low cost pizza to generate new customer interest. Targeting an audience that "likes" cheap brings an audience that is young, male and won't pay $10 for a salad, but a pizza/salad combo is attractive to a female 25+ audience. But if you have a family dinner combo, females/males over 30 with children would be ideal.
3. Think about placement: With Facebook, remember that the click-thru and engagement rate is higher when you place an ad in the Newsfeed. If you haven't used Facebook ads, ask your IT resources to connect you with a knowledgeable social media user. With Twitter, there is a higher engagement rate (greater than 3%) when you target ads specifically on mobile. Remember, generally, that video content doesn't work well on mobile, but does work well on desktop. HOWEVER, short videos that are general and pop up without taking too much time (really short) will be fine and very attractive to people using mobile.
Don't forget Google+ if you're thinking of advertising since Google+ has been known to produce a much better response than Facebook. Have you claimed and optimized your Google+ page? If you haven't provided a link that is optimized for mobile devices, links to Google reviews, a YouTube video and easy click through to your own mobile app... you have NOT optimized Google+.
4. Target well: Choosing the appropriate ways your ad content is delivered to your audience is imperative. You have several options when targeting audiences and paying for their responses. A few of those include:
- CPC: Cost per Click (pay every time someone clicks on your ad).
- CPA: Cost per Action (only pay for the action you want to get, such as likes, and no other engagement).
- CPM: This is Facebook exclusive and you pay for impressions. Facebook will optimize your ad to show to the people who are most likely to help you meet your goal.
- NO targeting, just providing your customers with the ability to create content for you in their own chosen social media networks.
Twitter allows you to target on specific phone devices, desktops, laptops, and Web on smartphones and tablets.
Thinking about what content you're advertising and what kind of reaction you want from it is the most important aspect of targeting. When determining the audience, Facebook gives you a multitude of targeting and segmentation options, from demographics to custom interests, their pre-determined broad categories, audiences and more. The two key factors to keep in mind when selecting audiences:
- Keep them focused, but not too focused. Again, using any existing data you have in order to determine the most applicable audience for your promotion is a smart way to target.
- Test, test, test: Can't emphasize it enough. The best way to find what works is to eliminate what doesn't. Test different keywords, audiences/interests and interaction options.
Remember that some users face special circumstances. First-time ad buyers should use the audience they already know is on social media and just target them in any first round of ads. If you know your customer base is females over 50 that live in Reno and love knitting, crafting, etc., then target only those to start with, and forget going after 20-somethings that have a much slimmer chance of interacting with your brand.
B2B users should remember that your potential clients and customers all work somewhere — right? Or a company you're looking to set a meeting with has multiple employees that have Facebook profiles, correct? You can target by workplace and receive positive attention from the company's personnel by sending them specific and applicable content through ads.
5. Use the right metrics to measure success: Make sure you are collecting and analyzing your ad campaign data to see if it's working for you.
The great thing with social media advertising is you can track it in real time. No need to fork over $1,000 upfront and cross your fingers that it's going to be successful. Because of this, monitoring is huge. You need to watch your ads daily and adjust as necessary to make sure your advertising campaign is successful.
Each platform has its own advertising monitoring interface so you can keep track of the results on there, though it can become complex and time consuming. And if you're providing "sharing" options on your apps/website, expect the unexpected results if those that share are personalizing their experiences with you to their own networks. This kind of "organic" response is a way to test new networks, strategies and improve your offerings and no cost.
You'll know if your advertising campaign is successful by creating your own metrics to measure by:
Then you'd better make sure you are using ads that drive people off Facebook and Twitter and convert into off-site sales. If this is the case, measure how much money you are spending on the advertising campaign based on how much money you are making in sales. This will show you your ROI and you can decrease or increase spending as necessary. If the ads are not generating any traffic, you might want to consider changing the copy or design of the ad.
- Are you trying to drive online sales? The same goes for increasing your audience. How much is 1,000 fans worth to you? Put a price on it and follow the same methodology as No. 1.
- Are you trying to increase your fans or followers?
- Are you attempting to make a video go viral? Make sure you're using desktop options more than mobile.
- Are you attempting to get more customers to share "you" to their own networks? Use your mobile app to build your "sharing" audience and then pre-populate the message in your "sharing" message to fit the desired results. Change up your "sharing" message to see which messages get the most shares and don't hesitate to offer some rewards or recognition to those that share without requiring them to cross too many thresholds, or your efforts could backfire. Oh, and don't be surprised if your customers elect to use a social media platform other than Facebook (already tiring with the under 21 year old crowd) or Twitter. When that happens often, pay attention and consider a new marketing opportunity being presented to you.
The key is to experiment. The opportunity social provides is incredible, but your must have some time to invest in the process and understanding of social ads. The best part of social ads is that they can user generated, too! You get to pick what content works and who sees it when spending your money. That's the new wave of advertising and it's a process worth investigating and investing in.
AND DON'T FORGET, YOU CAN SIMPLY ASK US TO MEET WITH YOU AND SHOW YOU HOW OUR SOCIAL MEDIA MANAGEMENT CAN PROVIDE ALL THE ANSWERS SO YOU CAN FOCUS ON RUNNING YOUR BUSINESS.
-----------------
Some Rules We Always Try to Follow at LocalMobil
One of the things Buffer suggests is the best time to post to Twitter and Facebook. The right timing helps you get more engagement with your audience, which is beneficial for everyone.
While the best time to post is definitely important, there are some other things to keep in mind. They looked at what kind of updates work best for Facebook pages to increase interaction and found seven interesting statistics that you'll probably find useful if you're trying to make your page more engaging.
1. PHOTO POSTS GET 39% MORE INTERACTION
Not only do photo posts get more engagement than links, videos or text-based updates, they actually account for 93% of the most engaging posts on Facebook. According to Kissmetrics, photos get 53% more likes, 104% more comments and 84% more click-throughs on links than text-based posts. And self-explanatory photos seem to perform best.
Wishpond's data says that overall, photo posts get 120% more engagement than the average post, and photo albums actually get 180% more engagement. It seems that if you have multiple images to share, you'd be better of putting them into a Facebook album than publishing separate photo posts.
2. SHORTER POSTS GET 23% MORE INTERACTION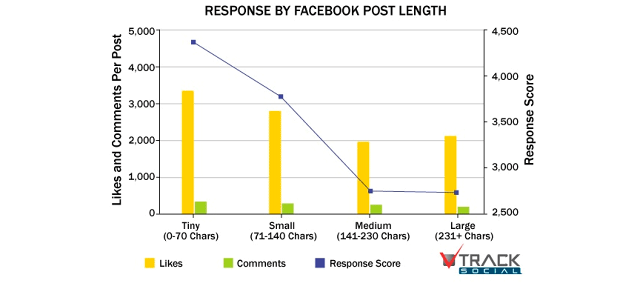 Writing shorter posts isn't just handy on Twitter. Keeping your posts below 250 characters can get you 60% more engagement than you might otherwise see. You can even get up to 66% more engagement if you cut it down to less than 80 characters.
Either way, the result seems to be that getting to the point quickly and concisely works best. Perhaps that's why Facebook fans like photo posts so much?
Especially looking at the overall Social Media statistics for other social networks, it's really interesting how this stacks up to other platforms.
3. USING EMOTICONS INCREASES COMMENTS BY 33%
If you thought emoticons were only for teens, you might want to rethink that idea. According to this AMEX OPEN Forum infographic, emoticons can make a big difference to your engagement rates. No only do posts with emoticons get 33% more comments, they also get shared 33% more often. Even better: they get liked 57% more often than posts without emoticons.
Emoticons tend to add a more human side to your communications, and it seems like this comes across fairly well with users.
4. Engagement rates on Thursday and Friday are 18% higher
Compared to other days in the week, Buddymedia's study found that engagement rates for Facebook are 18% higher on Thursdays and Fridays. As they put it, "the less people want to be at work, the more they are on Facebook!"
The study also looked at different industries, including sports, retail, automotive, and health care, to see which days worked best in each industry. Although they did vary, most of them sat around the end of the week, from Wednesday-Friday. Apparently no industry has users that are engaged on Mondays or Tuesdays!
5. QUESTION POSTS GET 100% MORE COMMENTS
If comments are the kind of interaction you're after, questions might be the way to go. According to an infographic by Kissmetrics, they get 100% more comments than standard text-based posts. HubSpot shares a similar finding, although this data points out that question posts often get fewer likes and shares than other types of posts.
What may be most interesting about this stat is that HubSpot's data also shows which question words attract more comments, with the most popular being "should," "would," "which," and "who." Does this mean that closed questions which have a very limited answer option are the highest attractors of comments? Open question words like 'why' and 'how' which make the user think more to articulate their answer sit at the bottom of this chart.
This is especially interesting and points to a stark change in marketing, turning the funnel upside down. In short: Keeping engagement high with your existing customers might be more important than trying to find new ones.
6. 35% OF FACEBOOK FANS LIKE A PAGE SO THEY CAN PARTICIPATE IN CONTESTS
If you're chasing down new fans, a contest seems like a fairly good way to encourage likes. A report earlier this year showed that 35% of Facebook fans liked Facebook pages specifically to compete in contests. Contests obviously solicit interaction by asking for people to enter. It turns out this can work, as "caption this photo"-style contests actually bring in 5.5 times more comments than regular posts.
In Buddymedia's report, contest-related words like winner, win, entry, contest, enter, and promotion were all more likely to engage users.
7. 42% OF FANS LIKE A PAGE TO GET A COUPON OR DISCOUNT
According to Socially Stacked, 42% of Facebook fans like a page in order to get a discount or coupon. A study by Wildfire Interactive showed that coupon-based campaigns received the highest engagement rates. Giveaways and sweepstakes came in just behind coupons as highly engaging post types.
If you found this information helpful, the best follow-on posts for you to read are our complete guide to the latest Social Media statistics, as well as the latest Twitter statistics.
If you're planning a campaign...ANY campaign, why not plug this data in to your planning? We'll do it for you at LocalMobil.